Browse Creators and Subjects
If you are uncertain of the most appropriate key words to use or would like to explore the contents of the Museums collection, use these left-side links to review an alphabetical listing of creator terms or subject terms (if enabled) that have been assigned by Museums staff to the collection items.

These search term listings can help you become familiar with the scope/content of the Museum's collections and, as well, you can use them as online aids for direct searching, both through hypertext links of the individual terms or by selecting a group of terms and displaying.
When you click the link, the new page displays a part of the creator or subject index, beginning with the As. Page Up and Down or, alternatively, move directly to a particular part of the alphabetic listing by filling in the Show Term Near: box with a single character or with a partial or full word.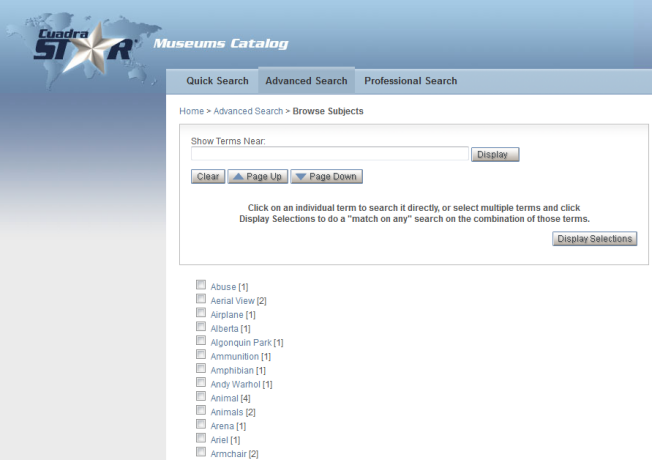 Each individual term is a link that, when clicked, will execute a search. The number of items that your search will retrieve is shown in parentheses after the term.
If you find multiple terms of interest, on one page or across several pages/multiple parts of the index, check each and then click

Display Selections

. Your terms will be ORed together in a "match any" search.
Alternatively, browsing these official search terms may provide inspiration for words you can use in formulating a Quick Search.
Access to this index of search terms — and to search terms from other fields, e.g., creators — is also available on the Advanced Search page, for pasting selected terms directly into a search line.
Your results will display in the default report format (see the Report Options/Requests page).